As side from being regarded the golden era of Hip Hop Music the 90s also set precedence and tradition for how we dress today. The influence of 90s Hip Hop Fashion continually presents itself which is why we are going to look at the most memorable trends and brands to come from that era to help inspire your outfit choices.
To put things into perspective the term 90s Hip Hop Fashion has had a steady search increase as indicated below by google trends from 2010 – Present which is evidence that we are constantly inspired by the era and its nostalgia is still used as a reference point influencing our style and trends today.
(Image Via Google Trends)
Our love for the era has manifested itself in many different ways such as fashion brands using the aesthetic on their clothes, musicians using the aesthetic in their videos and the youth bringing back styles and trends which we are going to explore in more detail below.
These are the staple 90s Hip Hop Fashion Pieces
Timberland Boots
First on the list and arguably the pinnacle of 90s Hip Hop Fashion is the iconic suede boot which carries heritage and history associated to the culture.
The origin of the boot can be traced back to the 90s as virtually every rap artist from the east coast has worn the boot from Jay-z, Biggie Smalls to Mobb Deep.
Though initially intended for construction workers, the boot became popular amongst New York drug dealers to withhold bad weather conditions. With the vast majority of drug dealers and hip hop artists growing up in the same neighbourhoods, upcoming rappers would be influenced by the look and place the boot within hip hop culture.
How to style: This is How to wear Timberlands
Graffiti Clothing
During Hip Hop's initial beginnings graffiti in the inner cities of New York was used as a way for people from low income housing to express themselves. With graffiti being one of the 4 main components of Hip Hop Culture artists took these artistic expression that lived on the streets, subways and trains and incorporated the art onto clothes.
The big bold colours, graphics and patterns would cement its place in Hip Hop Culture. Shirt Kings being pioneers of these styles took their graffiti skills and airbrushed these designs to apparel for LL Cool J, Big Daddy Kane & Mike Tyson. More about that here – Shirt Kings: Pioneers of Hip Hop Fashion
How to style: Best worn to a 90s theme party if you're feeling nostalgic.
Oversized Clothing
A huge part of 90s Hip Hop fashion consisted of oversized clothing in which artists wore pieces twice their size which has come back in style today.
Culturally oversized clothing became the norm which was often referred to as urban fashion and from this tradition brands were birthed such as Fubu, Phat Farm&Wu Wear catering to their audience of similar tastes.
Though today in Hip Hops artists can be seeing sporting mostly designer and luxury brands the 90s was about stepping out big , bold and confident which was captured through the oversized clothing during the era.
How to style: Best way to style the oversize look today is to create a contrast with a regular/slim fit pants and oversized jacket, jumper or t shirt. The combination of slim fitting clothes with 1 oversized item of your choice gives you the best of both worlds, homage to the 90s while still having a contemporary look.
Snap Back Caps
The snapback cap is widely associated with 90s Hip Hop Fashion and for good reason, take the fresh prince of bel air for example, the show centred around a young Will Smith who constantly sported the snapback hat during multiple episodes became evident that this was a trend during that era.
Though the early 2000s saw 59FIFTY FITTED being the hat of choice a resurgence of the snapback took place during the last decade with help from songs by Tyga such as Snapbacks Back, clear indicator that the 90s influence is still strong and were still rocking them today.
How to style: Snapbacks can be worn with all street wear outfits of your choice! Rock them front or backwards!
Dungarees
This particular style is evidence as to how experimental fashion was in the 90s with the dungarees being something mostly worn by artists opting for a cool comfy look. Similar to the timberland boots dungarees were made for workers to act as a protective working garment, however 90s Hip Hop artist's turnt this into a fashion statement.
The dungarees were made popular during the 90s through the most prominent artists such as Will Smith, 2 Pac, The Fugees and TLC.
How to style: The dungarees come in many different variations from fitted to baggy and can be worn with a t shirt or hoody, with both shoulder straps on or with one off.
Bucket Hat/Kangol Caps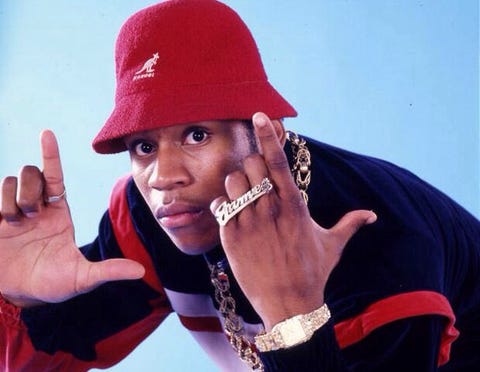 Kangol Caps – All credit goes to LL Cool J for popularizing the cap which he wore in multiple music videos in the 80s and 90s. The Kangol cap also had great product placement in the movie New Jack City in which we saw Wesley Snipes and crew rock the hat throughout the feature film.
Bucket Hat – Outside of the Kangol caps hip hop fans who opted for more affordable options in the 90s purchased regular branded bucket hats due to the influence of Kangol. Though the Kangol cap is not worn much today the bucket hat is still a contemporary look which we still love and its influence trace back to the 80's & 90's.
How to style: The Bucket hat can be worn with all streetwear outfits, best paired with full set tracksuits or hoodies and jeans.
MLB and NBA jerseys
Throughout Hip Hop culture sports jerseys have appeared in music videos with the artist often representing their home team. The connection between sports, athletes and hip hop has become seamless over the years which is why we saw jerseys featured in rap videos for example Jay –z and Jermaine Dupri – Money Ain't a Thang or Will Smith Summertime.
With both videos released in the 90s, what the 2 have in common is that the artists are sporting their jerseys as fashion statements.
How to style: Jerseys are best worn in the summer months for best looks. NBA jerseys can be style in many different ways such as over a t shirt, hoody or by itself with jeans, joggers or shorts and the MLB jersey best styled with a t shirt or by itself.
American Sportswear Brands
From Tommy Hilfiger to Polo Ralph Lauren Hip Hop quickly aligned itself with American sportswear lines in the 90s as a response to artists wanting more sophisticated silhouettes outside of designer brands.
One of the defining moments took place in 1994 as Snoop Dog performed on Saturday Night Live with a Tommy Hilfiger Polo gifted to him hours prior to the show. This performance would influence Hip Hop and R & B artists toincorporate their own style with sportswear brands.
Other popular examples would be Aaliyah who is a perfect example of capturing 90s Hip Hop Fashion as she featured in multiple campaigns for the brand while keeping the aesthetic 90s with baggy jeans and crop tops.
How to Style: The options are endless when it comes to styling sportswear.
Adidas Superstars
Not only did RUN DMC have the first partnership between a sportswear cooperation and music group, the group also became cultural icons regarding street wear and fashion in Hip Hop.
In the early development stages of Hip-Hop musicians such as Melle Mel and Afrika Bambatta took a liking into African King attire and Glam Rock style. With the introduction of RUN DMC Hip Hop fashion changed forever with the groups style being more street authentic. This style would influence millions across the world and change Hip Hop fashion in the following years to come.
With the success of the song my Adidas the group represented black, urban youth across America with regard to style in the 80s which made a seamless transition into the 90s. This is why Hip-Hop fashion in the 90s mimicked the style from tracksuits head to toe, bucket hats and rope chains.
The partnership between Adidas not only laid the foundation for how artists dressed in the 90s but also meant the sportswear brand signing more deals for example Kanye West to create Yeezy sneakers, Snoop Dogg partnership, Ciara and Pharrell.
How to Style: The Adidas superstars are best styled with a full set Adidas tracksuit head to toe. Bomber Jacket 3 stripes jacket, matching pants and sneakers!
Military Clothing
As Hip Hop became more of a prominent voice across America, groups and artists used their platform to speak on political issues affecting black Americans such as Tupac Shakur, Public Enemy and Nas.
Whether the artist was conscious of it or not the military gear acted as a uniform to further emphasize the message being portrayed in the lyrics while also symbolising the war against Black America.
Though military clothing became a fashion statement in the 90s it also became the go to gear for artists wanting to spread a message while looking the part and in doing so caught on with artists such as Biggie and Das EFX. Outside of wanting to share a political message camo was also a big trend in the 90s and still is.
How to Style: If you're going for the complete 90s Hip Hop look pair your military pants and jacket with timberland boots. If you're just taking inspiration feel free to pair 1 military item with your outfit, for example military jacket with jeans, sneakers, t shirt, cap and white tee.
Plaid Jacket and Shirts
The flannel style shirts and plaid jackets were staple pieces for Hip Hop artists from the west coast. Popularized by west coast artists such as Snoop Dog and movies like menace ii society and juice the style is still prominent today.
How to Style: Feel free to wear them oversized or tied to the waist, and a great rule of thumb is to never have them buttoned up. For a more west coast influenced style pair the flannel shirt with a pair of converses.
Puffy Jacket
Since the plaid jacket is geographical to West Coast Hip Hop fashion then the Puffy Jacket is to the East Coast Hip Hop Fashion.
Whys that?
Similar to the Timberland Boot, the puffy coat was worn by East coast MC's as a response to the cold weather conditions. Designed big and puffy for practical reasons it was made popular by Hip Hop artists and black youth within the neighborhood & then paired with NY Yankee caps, hoodies, and boots which would explain all of the New York style meme jokes years later.
How to Style: Puffy jackets can be styled with jeans or joggers. For more sporty looks pair the puffy jacket with joggers and sneakers, for some casual look pair with jeans and sneakers.
Pelle Pelle
Pelle Pelle gained massive popularity within the 90s for 2 reasons
The leather outerwear company became a go to favorite for rappers from the east coast choosing to rock the style.

There were one of the first brands to introduce the designer baggy pants look.
Pelle Pelle saw a need to create leather jackets within the urban markets therefore took it upon themselves to create and the rest is history. Within the 90s it was rare to see a video from an east coast artist such as Keith Murray, Guru and Nas without the leather Jacket.
How to Style: For a 90s look you're going to want to rock a baggy leather coat, however if you prefer a more contemporary look slim/fitted options are now available.
Double Denim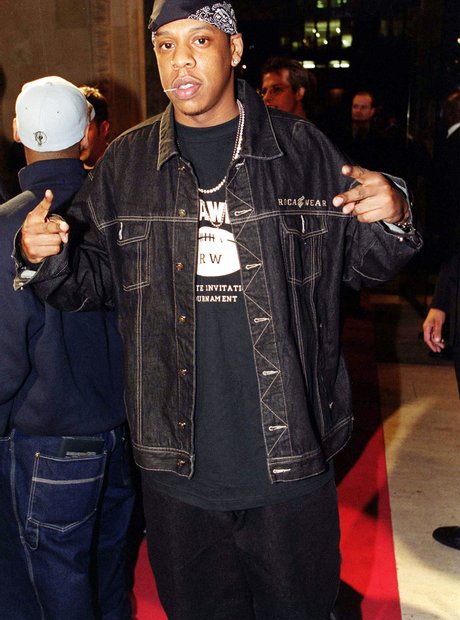 During the 90s urban brands such as Karl Kani, Rocawear, Ecko Unltd and Johnny Blaze noticed the shift from denim being worn for workwear into a fashionable item. The urban spin came in the form of Denim pants and jackets being baggy and oversized.
Subcultures such as punk rock had adapted denim into their culture in the 80s and Hip Hop began to do the same around the time RUN DMC introduced street wear to the masses.
Often styled with timberland boots or Lug boots the denim look in the 90s became another affordable look for black kids in the inner cities.
How to style: Rules of double denim today consist of ensuring the 2 shades of denim are different. If you're going for a 90s double denim look ensure both jacket and pants are baggy and can be the same shade to match.
Bandana Clothing
Another geographical fashion item on the list, the bandana, which is notoriously associated with west coast rappers and gang culture.
During the 90s rappers from the west coast usually wore bandanas to represent their respective neighbourhoods. Los Angeles was filled with bloods and crips who wore red and blue bandanas which then naturally transitioned to artists from LA incorporating this into their music in the 90s.
How to style: The Bandana can be styled in many ways from a headscarf, head band, neck gaiter, hair band and over the wrist.
Urban Hip Hop Brands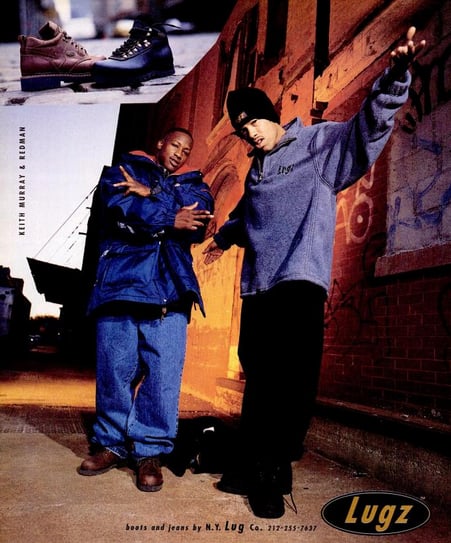 Brands such as Karl Kani, Lugz, FUBU and Pelle Pelle all spoke directly to the urban market and demographic. Though brands such as Calvin Klein and POLO were using Hip Hops influence to get the consumer the urban brands had a competitive advantage by understanding Hip Hop culture more.
Take FUBU for example, which meant "For Us, By Us" which was one of the first black owned fashion brands being intended for Hip Hop youth and Black America. The brand understood where street wear was going, what the youth wanted, the lingo and most importantly was at the centre of the culture.
In 1999 LL COOL J took FUBU to new heights with a freestyle commercial he did for GAP in which he rapped about FUBU while wearing a FUBU Hat. The commercial was seen by millions with FUBU not having to spend a penny on marketing, the result , millions in revenue generated.
Bomber Jacket
Certain fashion pieces are connected and synonymous to sub cultural movements for example Denim Jackets being connected to punk, Parker being connected to moths, Worker shirt being connected to skateboard culture and lastly the bomber jacket being connected to Hip Hop.
The Bomber Jacket became massively popular within Hip Hop as the culture started to connect with sports as I mentioned before in the Jersey Section. 80's baseball Bomber style jackets became popular in the 90s after the influence from acts such as RUN DMC.
How to Style: Styling the bomber Jacket is very easy and is something done effortlessly. Normally styled with jeans and t shirt for a street casual look or can be styled smart casual with trousers and a t shirt.
The bomber jacket also comes in many variations from 100% polyester light material for more sports athletic bombers to 100% full cotton for bombers typically worn in colder conditions.
Tracksuits
During the 80's and 90's multiple sportswear brands were very popular such as Fila and Kappa who were relatively well known for the tracksuits they were creating at the time. These tracksuits came in many different fabrics that hip hop artists took a liking too from Velour, Silk, Polyester and cotton.
Outside of looking great these branded tracksuits provide much comfort for most activities and became a favourite for artists during promo tours, photoshoots and interviews.
How to style: For best looks ensure the tracksuit outfit is uniform, your pants should match the jacket and for the ultimate finish rock the same brands sneakers.
For example if you're looking for a 90s hip hop fashion look while rocking a tracksuit, select your Adidas matching pants and jacket, superstar sneakers and Kangol bucket Hat.
---
FAQ's
What is 90s hip hop fashion?
90's Hip Hop Fashion is a specific style associated with Hip Hop culture during the 90s decade. Over the 10 year period (1990 -1999) multiple cities and states contributed to the different styles which would be deemed hip hop fashion such as the timberland boot being widely associated to the east coast and converse sneakers being associated to the west coast.
Where can I buy 90s hip hop clothes?
Today there are a range of retailers and brands selling 90s clothes such as
Urban Outfitters, ASOS, Zappos, Topman & Topshop, Etsy Market place,Levi's &Amazon.
What to wear to a 90s party?
All selected pieces within this article can be worn to a 90s party. Use this as a guide for your outfit ideas!
For more options visit London's Nordic Poetry who specialise in retro and 90's vintage fashion for both men and women's designer and sports pieces.
To stay updated on everything happening in men's style/lifestyle , street culture & music follow @heartafact on Instagram